In 2021 and beyond, it will be crucial for brick and mortar stores to deliver a seamless multi-channel customer experience in-store. Retail technology will continue to play an instrumental role in digitizing the shopping experience and achieving deeper customer satisfaction. There is no doubt that retail stores will play a key role in meeting customer demand, when stores are finally allowed to reopen. Retail managers are already using the lockdown period to enhance their stores and equip them with innovative solutions of the future.
Inside this whitepaper
This whitepaper draws on eyefactive's rich expertise in interactive digital signage to highlight 9 key technologies that retailers should be familiar with in 2021 and beyond.
A pioneer in this industry, eyefactive has helped dozens of retailers delight customers with memorable experiences across automotive, banking and insurance, beauty, food & beverage, electronics, home accessories, hospitality, oil and gas, medicine and technology. Based in Hamburg, Germany, the company has expertise in both touch hardware and software, and operates a one-of-a-kind software technology platform offering retailers easy-to-deploy touchscreen apps.
1. Interactive Shop Windows

2. Self-Service Kiosks

3. Transparent Touchscreen Displays

4. NFC/RFID Tagged Smart Products

5. Touchscreen Tables with Object Recognition

6. XXL Touchscreens with Multi-User Technology

7. Customizable Apps for Large-scale Touchscreens

8. Facial Recognition as an Analytics Tool

9. Smartphone Integration for Multi-Channel Marketing
In-store shopping is here to stay
Despite headlines about "retail apocalypse", the majority of retail sales around the world (5 out of 6 transactions) still take place in stores[1]. Several surveys confirm that shoppers are visiting stores more often than before and that in-store shopping is especially popular amongst the tech-savvy Generation Z (those under 25 years in age)[2,3].
Customers expect a blended shopping experience
Shoppers flock to stores to experience the product - to see, feel and try it - before they purchase it[4]. While they value this traditional aspect of the shopping experience, they also seek the digital shopping features they are attuned to. It has become second nature for customers to use their mobile phones in-store to search for price comparisons, discounts, promotions, ratings, video reviews and social media content. Tech-savvy customers also seek virtual experiences that allow them to visualize the product's performance in real-life settings[5].
With growing competition from e-commerce and as pure online shops like Amazon enter the brick and mortar space, retailers are under tremendous pressure to innovate and digitize their customers' experience. Retailers that successfully pivot to accommodate the new-age mobile-savvy consumer will find that technology can actually be a boon and not a bane for the retail industry.
Retailers are already seeing success with interactive digital signage
Retailers across a wide variety of industries have already begun to integrate retail technologies such as interactive shop windows, endless aisles, self-service kiosks, multi-user touchscreens, augmented reality, object recognition, product sensors (NFC/RFID), QR codes, mobile payments and facial recognition. The majority of retailers (80%) who have used digital signage have found that it is important or essential to improving customer's in-store experience[6], and contributes to an uptick in sales.
Benefits of Retail Technology
Numerous studies validate the positive impact of retail technology on the customer journey in-store, from product discovery to smoother checkout.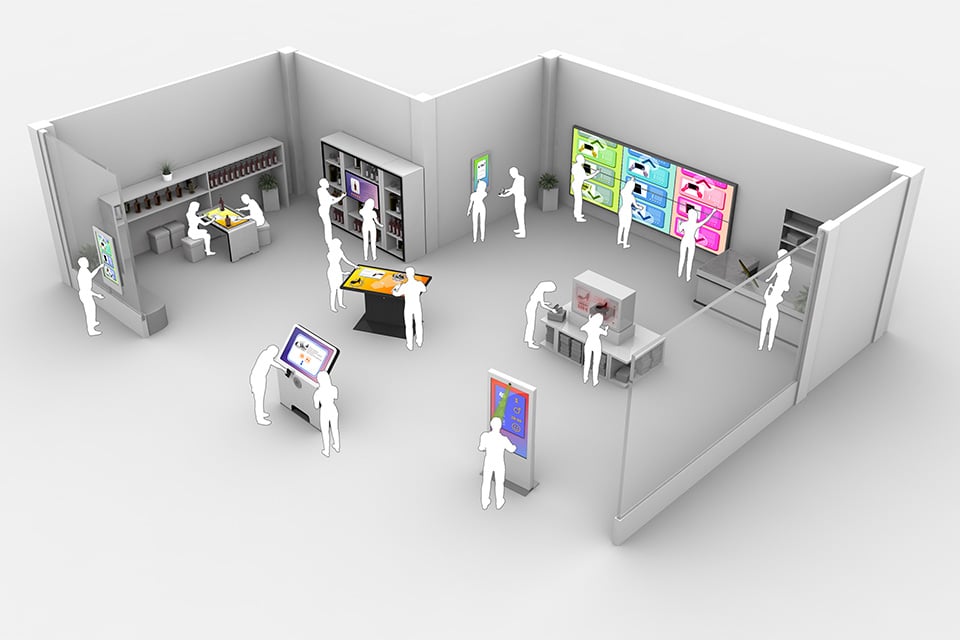 1. Interactive Shop Windows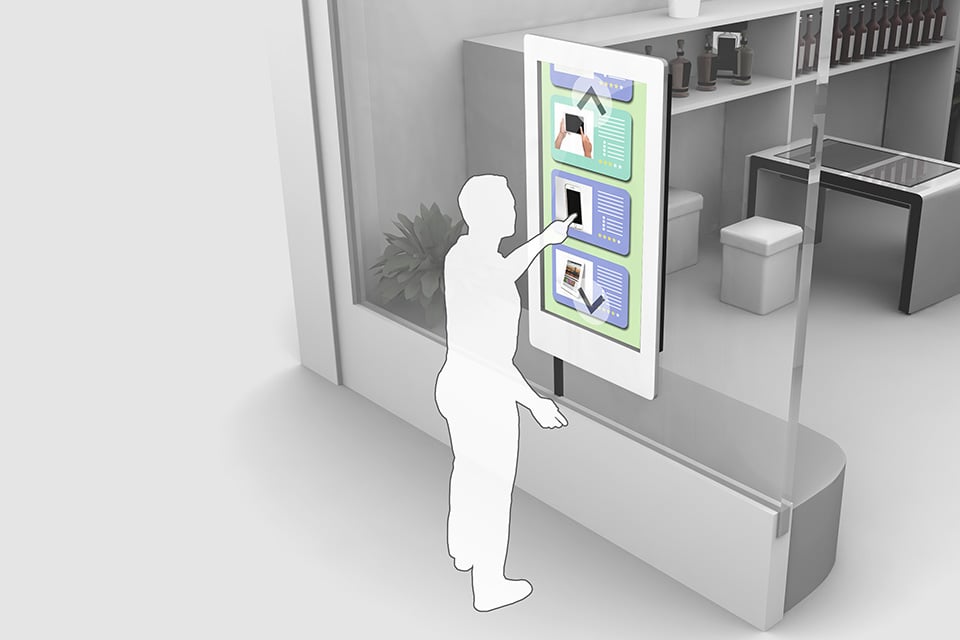 Interactive shop windows are touchscreens that can be installed inside the store at point of sale, in a pop up location or as the shop window - with the hardware secure behind the glass pane. They can be set up as virtual shelves that display featured products, effectively transforming an idle store window or wall into a virtual store that is 'open 24x7.' Or, they can be set up as endless aisles that showcases the entire catalogue, allowing retailers to save on physical space within the store.
Shoppers can interact with the touchscreen at their own pace to find the right product, browse through rich media content, interact with customer support or learn more information about each product. Specialised vehicle manufacturer Polaris used virtual shelves to help customers visualize the full range of products and personalise their own vehicles, leading to a 26% increase in vehicle sales and a 44% increase in accessory sales[14].
Implementation tip: Use classic printed signage to inform customers about the presence of interactive touchscreen systems, and match the look and feel of the on-screen content to that of the brand and store. Be creative in the design - products do not have be displayed on literal shelves and can be showcased in more innovative settings. For example, a clothing brand could display products in a celebrity's closet. A beauty brand may display products in a virtual garden.
2. Self-Order Kiosks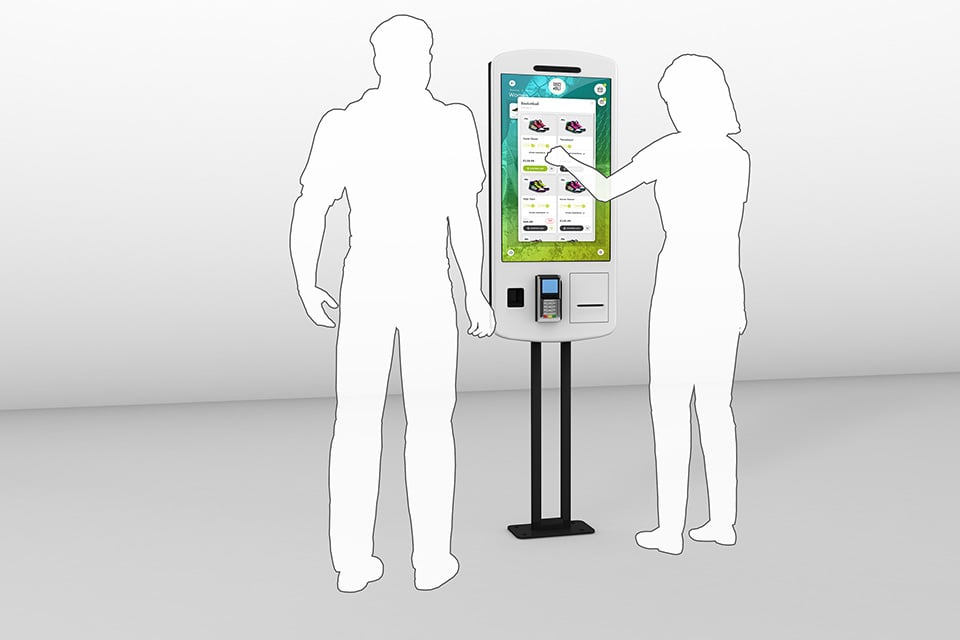 Interactive touchscreens can also be set up as self-service kiosks in-store, an implementation that is becoming increasingly popular in retail. For example, Quiz Clothing's kiosks allow customers to browse and order products that are out of stock in that particular store. These kiosks are also used to launch instant promotions, and have helped increase shopping time, boost demand and increase conversions[15].
Fast food giant McDonald's has had tremendous success with its self-order kiosks, which allow customers to skip the line for the cashier, interact with visual menus, place their orders and make mobile payments by themselves. According to one study, the kiosks contributed to a 30% increase in average order size for McDonald's[16] - a trend that other quick service restaurants have noticed as well.
"What we're finding is when people dwell more, they select more. There's a little bit of an average check boost[17]."

Steve Easterbrook, ehemaliger CEO, McDonald's
McDonald's self-service kiosks are extremely popular amongst customers and make up over 50% of transactions in markets such as France, Italy and Spain[18]. The company has kiosks installed in over 15,000 restaurants worldwide with aggressive plans to install more in the future.
3. Transparent Touchscreen Displays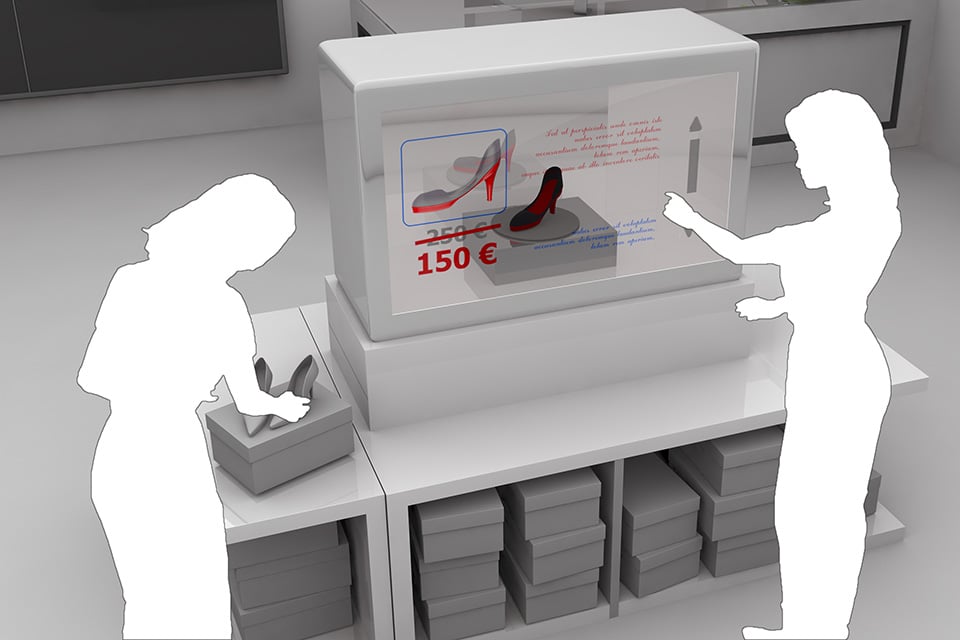 Transparent displays offer a futuristic way to experience a product, using a simple form of augmented reality (AR). Here, the product is placed within a box or behind a semi-transparent touchscreen display. Shoppers touch the display to activate a layer of interactive content. Transparent displays and AR can be used to build hype around everyday products or allow shoppers to engage with delicate luxury products such as high-end jewellery, watches, designer scarves or tech gadgets. They can even be used to demonstrate large-sized products like cars, or help visualise real estate or financial products. Research consultancy Gartner estimated that 100 million customers will shop in augmented reality in-store and online by 2020[19].
4. NFC/RFID Tagged Smart Products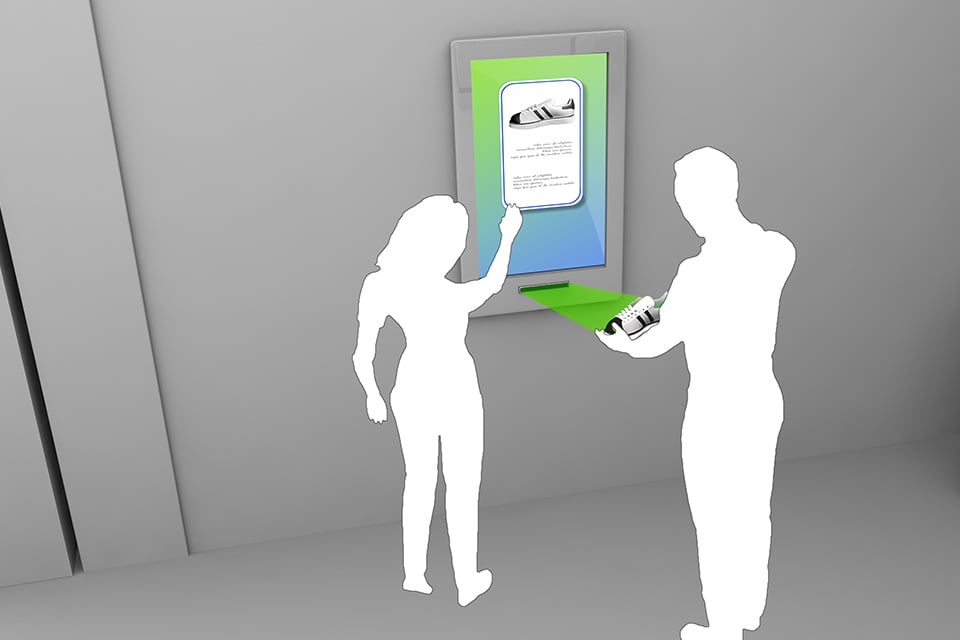 NFC or RFID product tags are easy to implement and can transform products into smart devices that trigger multimedia content on screens within the store. Touchscreens can be set up on the shelves themselves transforming them into intelligent shelves, or can be mounted on walls to allow for larger higher resolution displays. Shoppers simply need to hold up a tagged product to activate content such as behind-the-scenes videos showing the origin of the product, social media content or interactive experiences. Burberry used RFID sensors in its Regent Street flagship store in London to demonstrate how products look on the runway.
"Burberry Regent Street brings our digital world to life in a physical space for the first time, where customers can experience every facet of the brand through immersive multimedia content, exactly as they do online. Walking through the doors is just like walking into our website[20]."

Angela Ahrendts, Former CEO, Burberry
Implementation tip: Educate customers that there is an interaction to be experienced with visual signage or sounds. Harvey Nichols did this by placing stickers on shelves to let customers know what kind of content they could access[21].
5. Touchscreen Tables with Object Recognition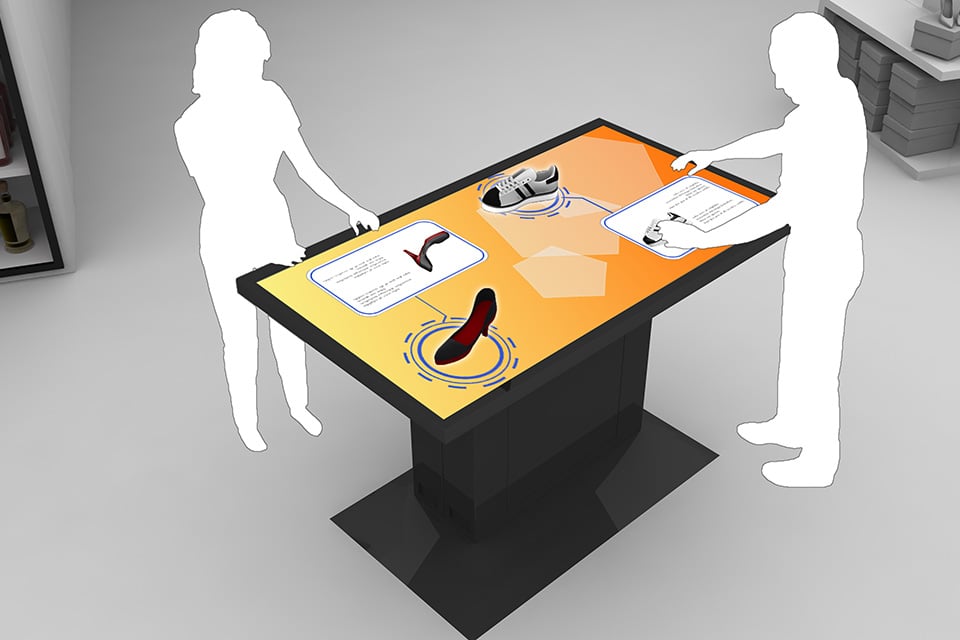 Shoppers can also interact with smart products using touchscreen tables. Here, the products are tagged with marker chips which serve to differentiate between multiple products. Shoppers can place the product on a table to instantly activate the touchscreen. At an automotive event, BMW asked visitors to place mini models of the cars on large touchscreen tables to see product specs, explore photos and videos, and register their interest[22].
Touchscreen tables use object detection to deliver a simple, natural user interface for customers. Retailers can choose from a range of different touchscreen software or touchscreen apps when setting up the tables. For example, the app CompareObjects would allow shoppers to place multiple products on the table to activate a comparison table highlighting the benefits of each. Shoppers can explore this information by themselves, or interact with the content along with a salesperson.
6. XXL Touchscreens with Multi-User Technology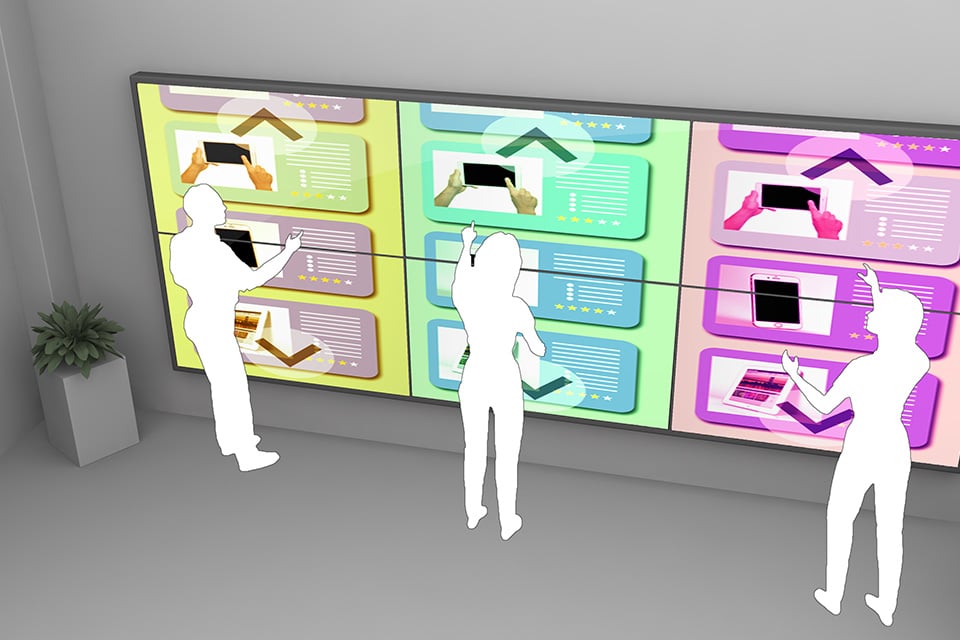 Multi-user software can be applied to touchscreens of all sizes but works best with large-scale touchscreen videowalls. These are ideal for displaying high resolution content and attracting people's attention across long distances. True multi-user software, as pioneered by eyefactive, allows for unlimited parallel numbers of touch points and interactions on the screen.
Large-scale touchscreens can also be applied to tables, creating flat videowalls which shoppers can engage with while standing or sitting comfortably. Touchscreen tables allow multiple people to interact from any angle and can be layered with additional features such as NFC/RFID readers, payment solutions and object recognition.
Implementation tip: Incorporate moving elements in the design of the content to attract attention and invite shoppers to interact with the display. Beiersdorf incorporated a floating menu across its three metre long multi-user videowall to highlight the features of its Eucerin product range and inform shoppers where to tap for more information[24].
7. Customizable Apps for Large-scale Touchscreens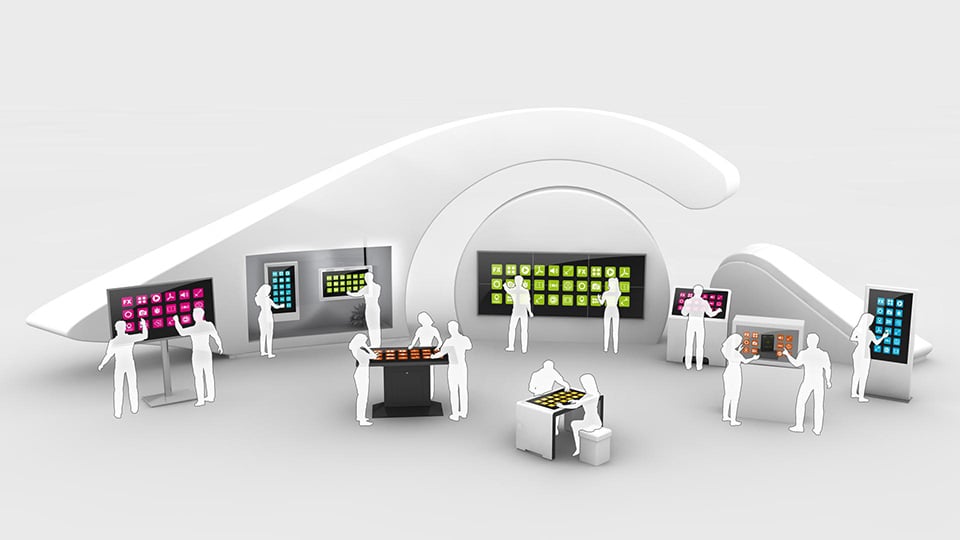 One of the key learnings from the smartphone industry is that customers prefer user experiences that are native to the device they are using. This is clear in customers' preference for mobile apps over mobile optimised websites - a 2019 study found that 85% of all time spent on mobile devices are spent on mobile apps[25].
Similarly, user interfaces designed specifically for touchscreen displays offer a richer, more intuitive experience for customers. Retailers thus find that they need to invest in development of touchscreen software in addition to the hardware itself. eyefactive's specialized app store of both ready-to-use and customizable touchscreen apps offer retailers a more affordable alternative.
Developed by specialists in touchscreen software, multitouch apps[26] work across various systems, including large-scale touchscreens, self-service kiosks, steles, touchscreen tables and videowalls. Touchscreen apps can be combined together to enable multiple features within an experience. They can also be customised, allowing retailers to integrate their own content and design. By streamlining the set up process, touchscreen apps enable easier and quicker implementation of retail technology in stores.
8. Facial Recognition for Retail Analytics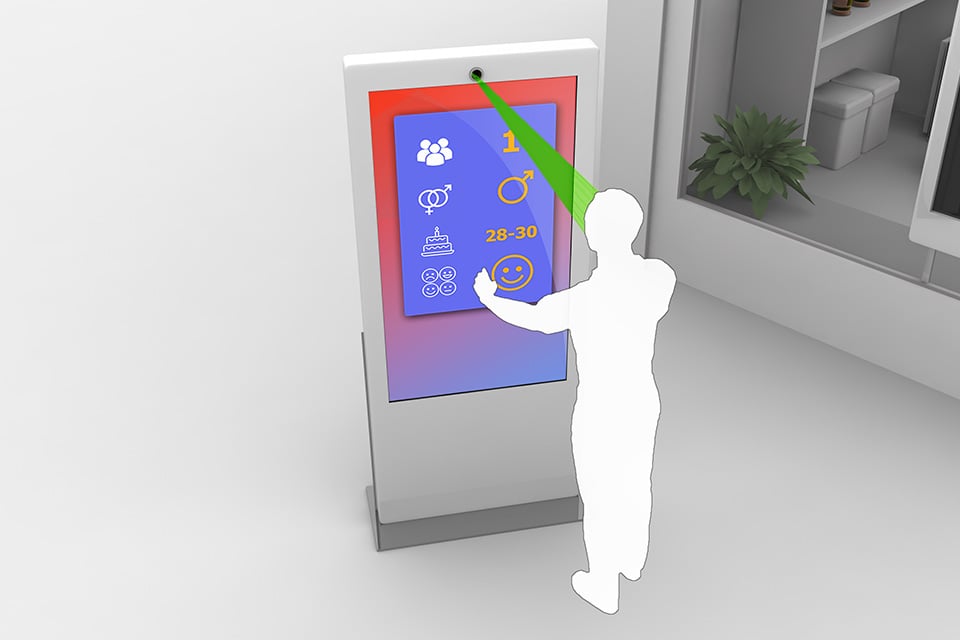 Brick and mortar stores lag behind e-commerce stores when it comes to data and analytics, often at their own expense. For example, Amazon's data-driven product recommendation engine has helped drive an estimated 35% of consumer purchases[27].
Touchscreen analytics offer brick and mortar stores fresh insights into the type of product information seek and the time spent with each product. When touchscreen data is combined with facial recognition tools, retailers can access an even deeper layer of in-store insights.
Facial recognition helps identify when a new customer engages with a touchscreen and can determine the amount of time - and number of touch clicks - the average customer engages in. As a standalone tool, facial recognition can track (to some degree of accuracy) the number of customers in a store, their age, gender, mood and more. In Australia, digital billboards in Westfield shopping centres use cameras to track the reactions of passers-by to digital ads[28]. In the United States, Walmart is testing the use of facial recognition to gauge customer's moods, to help the company improve the in-store shopping experience[29].
Implementation tip: Make use of facial recognition tools in a way that respects customer consent and privacy concerns. As part of its pilot program using facial recognition at self-ordering kiosks, CaliBurger asks customers for their consent in exchange for loyalty rewards[30].
9. Smartphone Integration for Multi-Channel Marketing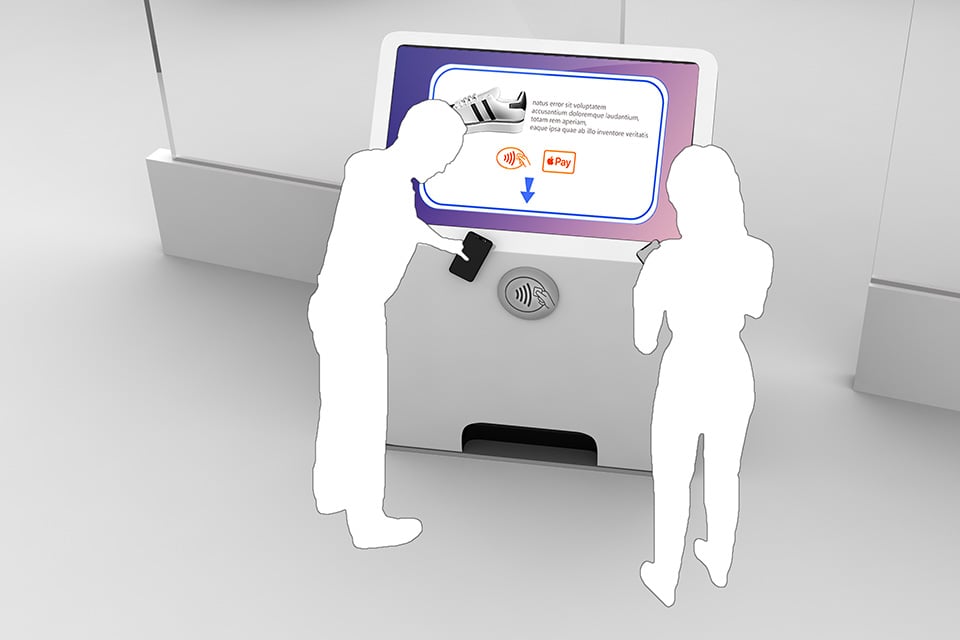 Touchscreen systems on-site help retailers avoid the need to develop dedicated mobile apps for Apple, Android and Windows interfaces. Not only does this save on development costs, it also helps retailers avoid the marketing costs associated with promoting app installs (a fundamental problem of proximity marketing via beacon technology[31]).
A more cost-effective way to integrate smartphones in a multi-channel experience, is to use the phone as a checkout tool. For example, retailer Zwilling enabled customers to build a virtual shopping cart using interactive touchscreen systems on-site, and then transfer the cart to their smartphones by scanning a QR code. This allowed customers to complete the payment privately and securely on their mobile phones[32].
Best Practices on Implementation
Interactive digital signage has come a long way over the years, and can be very straightforward to set up. With years of experience helping retailers with digitise their operations, eyefactive has found the below four steps are crucial when planning a customer experience strategy:
1. Understand the Landscape

Learn about the technologies available to retailers for point of sale, and the benefits of each product, both hardware and software.

2. Define the Need

Start with the end in mind: identify what you want to achieve, taking into consideration the specifics of your store, your products and your target audiences.

3. Start Small, Grow Big

First, determine if you want to work with multiple partners or one partner for the hardware, software and service components of the project. Experiment on a small scale and then scale up operations. A simple set up only requires a touchscreen, a media player and an app that can help you integrate your content. As you grow more confident, incorporate more advanced technologies, combine multiple apps and layer additional features to deliver an even more innovative and richer customer experience.

4. Analyse and Optimise

Make the most of touchscreen analytics - evaluate early learnings and optimise the experience to ensure you achieve the right retail return on invest (ROI).
Retail Technology is Ready for Take-off
Market conditions have created a perfect storm for innovative, interactive digital technologies with wider adoption expected in the months and years to come.
Growing competition from e-commerce and positive results from early adopters of retail technology have shone the spotlight on in-store customer experience. Recently, retailers prioritized investments in digital store tech, omni-channel marketing, advanced data and analytics and personalisation[33]. With a mature ecosystem of service providers and exploding demand from customers for a multi-channel shopping experience, we expect to see retail technology become more popular around the globe in 2021 and beyond.
---
About the Author
Matthias Woggon is CEO & Co-founder of eyefactive GmbH. A pioneer in interactive signage, eyefactive combines interactive touchscreen systems, software and technologies like object recognition to offer innovative solutions for businesses. Furthermore, clients and partners can create ready to use apps with individual content and designs in the world's first ever app store for professional large-scale touchscreens.